I'm staring at a small black notebook—a journal filled 30 or so pages deep with my own handwritten scrawl. I bought the notebook at a bookstore in Kauai so that I had something to write on, besides a hotel notepad, without having to open a laptop on our honeymoon. I wanted to write it all down. Write down every feeling, every emotion and sensory moment of the wedding weekend prior, before the moments were left to the fate of my own fickle memory.
And then, of course, I planned to bring the book back and post all of my musings for the world to see. But I didn't.
For all the stuff I've posted out there in the ether, and for such a public event as a wedding is, why am I now feeling that I want to keep this moment private? I want to move on and start writing about other things. I want to keep the book to myself and Colin, my husband.
Is that okay?
For the record though, I will post a small summary and one of my favorite photos from the weekend by
our friend Isaac. He took a bunch of pics that weekend and you can see them here.
(Note to self: for all private feelings, emotions, sensory moments, please see Little Black Book)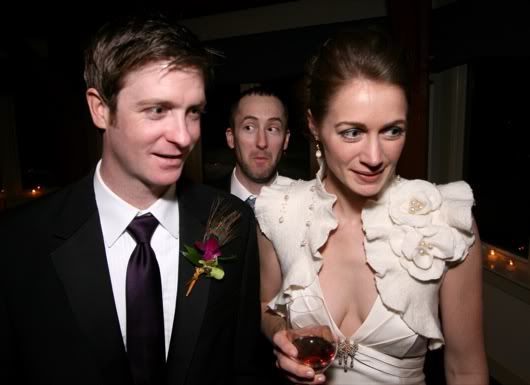 Colin and I were married on January 23, 2010 at Trapp Family Lodge in Stowe, Vermont. A beautiful chill and sunny day—the sky blue like a swimming pool, mountains cloaked in icy white hoar frost. A rare kind of day, not often seen in Vermont winters. As dusk approached, guests gathered in the candlelit Mozart Room of the lodge.
Both sets of parents were present, as well as siblings and their spouses, a few aunts and uncles and close friends from near and far. My bridesmaids were my two sisters and my 2 best friends from college, Bibba & Brooksie. Colin's groomsmen were his brother, brother-in-law, and 2 best friends. My father officiated. My mother and sisters sang a song that they had written together. Auntie Lucy read a poem:
Colors Passing Through Us by Marge Piercy
. Colin's sister Kristen read a poem:
A Birthday by Christina Rossetti
. There were tears. We exchanged vows in front of a fireplace. We exchanged rings. Kissed. My mother played Edelweiss on the classical guitar during the recessional. Then we celebrated. We ate amazing food. We cut the cake. We danced and danced and danced all night long.
Lots of people told me before this day to expect my wedding to be a blur and that I might not remember many of the details. I was determined not to let this happen and in the end the entire day played out like a movie—like a long, romantic, perfect movie. And everything still remains as clear in my mind as the crisp blue sky that day. It was magic.
And now we're married. And I say to my new husband,
Grow old with me, the best is yet to be.